Posted by:
Angelicum
on Thursday, August 31, 2006
For the past ten days, I was able to indulge myself with three movies. First would be the corniest movie of the year, My Super Ex Girlfriend. Second, Click, which is okay, and Little Man which is funny but not funny enough.
Have been hearing lots of Buzz about Devil Wears Prada, will watch it tomorrow. I like Anne Hathaway, just not in Brokeback Mountain. She's a funny cute girl. On the other hand, I like their Poster: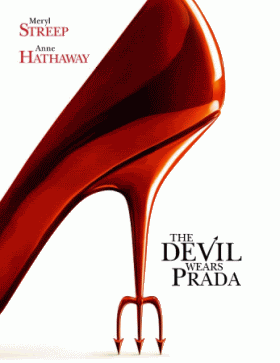 And speaking of Prada
and devils
, how about this:
and a close-up here:
Oh and how about an ULTRA EXPENSIVE Gucci Sunglasses?
I know these Pope Pictures are old news, but I just want to share some clippings:
Pope Benedict appears to have a taste for the finer things in life.

While Pope John Paul II wore plain brown shoes, for example, Pope Benedict is often spotted wearing ruby red slippers some say were designed by the top-shelf brand Prada.

But the fashion doesn't stop at his feet. The Pope's watch is believed to be a Cartier, as are his reading glasses. He's even been seen wearing that most-famous of Italian marques Gucci.

The Vatican says all the designer items were presents and don't conflict with the church's doctrine.
Gifts huh? Yeeeeaaaah right! So you're saved from gluttony and high fashion capital sin? Sure!