Posted by:
Angelicum
on Saturday, October 27, 2007
My goal is to watch all the movies from this EU Film Festival. Second movie for review, "Kolya," released in Czechoslovakia as "Kolja." Kolya is an award-winning 1996 Czech film drama about a man whose life is reshaped in an unexpected way. It has won Best Foreign Language Film in the 1996-Oscars and the 1997-Golden Globes and 1997-BAFTA.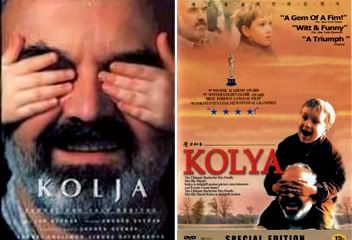 The action takes place during the last years of Communist rule in Czechoslovakia, at a time when the Soviet bloc begins to disintegrate. František Louka, a middle-aged Czech man dedicated to bachelorhood and the pursuit of women, is a concert cellist struggling to eke out a living by playing funerals at the Prague crematorium. He has lost his previous job at the philharmonic orchestra due to having been half-accidentally blacklisted as "politically unreliable" by the authorities. A friend offers him a chance to earn a great deal of money through a sham marriage to a Russian woman to enable her to stay in Czechoslovakia. However, the woman uses her Czechoslovak citizenship to emigrate and join her boyfriend in West Germany. Due to a concurrence of circumstances that remain partly unclear, she has to leave behind her Russian-speaking five-year-old son, Kolya, for the disgruntled Czech musician to look after. Gradually, a bond forms between Louka and Kolya.-Wikipedia-
This puts a severe disabling element in his love life (the kid was sent to him, just as he was about to have his first real and serious relationship), he also knows nothing about kids, and Kolya only speaks Russian., a language Louka has on principle refused to learn.

The plot of the story is conventional but sentimental (is there any doubt he will come to love the child?). What makes 'Kolya'' special is the way it paints the details. Like the way the director hints the Russian-EU relationship at that political time of the Soviet (Consider Louka's mother, who rejected the idea of looking after Kolya, because she has a divine belief that Russians are devils, also watch the scene where the Russian army trucks stop outside her apartment and Kolya hears his native language and immidiately runs out happily to talk to the soldiers.), it has a cheerful, irreverent humor, and an eye for the absurdities of human behaviour, bringing in the feeling of realism.
Other considerations to make, the bureaucracy, faithful to Soviets. Louka is subjected to an interrogation by suspecting officials who believes that his marriage was a sham, the pressure and tone of the interview though was refined and quite more civilized than if Kolya didn't refuse to go outside and wait, instead he draws a picture during the interrogation; his evident love for his stepfather is a confusing factor.
Quirky details are chosen to show the gradual coming together of Louka and Kolya. The cellist drags the child along during his work as a funeral service musician, and the kid always watch very closely as the musicians play and the vocalist sings. It is perhaps not surprising that his first words of Czech are the 23rd Psalm, and the shocked reaction of Louka's when he realizes the kid is using a puppet theatre to stage a cremation play.

There are many women in Louka's life, but one becomes special: Klara, played by Libuse Safrankova. His new freedom is shown against a backdrop of the end of the Cold War, as the Berlin Wall drops, the Russians leave town, and joyous Czechs take to the streets, chanting ``It's finally over!'' Louka is placed in the center of the celebrants, where he sees, of course, his former bureaucratic interrogator now part of the joyous crowd. This event is one element that makes such foreign/independent films special, through the characters' personal life struggles, scenes are shown to capture the country's political and socio-economic situation (like Chocolat, Y Tu Mama Tambien, and King of the Hill, among others).
Kolya was written by its star, Zdenek Sverak (Louka), and directed by his son, Jan. highlighting even more the real depth of the story, as a work of love. For a foreign language felm to be able to capture once heart (even with supposed-to-be confusing subtitles), it has to be beautifully done with all the cinematic and production works in perfection, and it is.
Metro Manila peeps can watch the movie
for free
in Shangri-la Plaza, October 30-Wednesday, 6:50pm (get your free ticket at least 30 minutes ahead).
My Rating
:
This post is a review post from my
Angel's Hub Reviews via Multiply
.